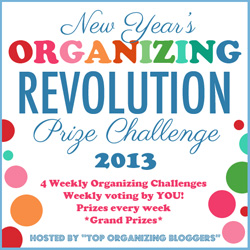 Here we are at week four of the Organizing Revolution hosted by
www.orgjunkie.com
and a few other organization bloggers. I've organized more in the last three weeks than I have in the last three months!
This week was the most challenging for me since it involved other people and their crap stuff. In September of 2010, we moved in with my in-laws and they moved out 3 months later. I've been trying to make it our home ever since. Changing the formal office/den has been argued about the most. It seemed everyone had an opinion about this space that was no longer being used on a daily basis since the in-laws moved. We didn't need it as an office space since husband's office is in the basement and mine is in the kitchen. I suggested using it as a playroom and was head butted with strong opposition from several parties. So I went along my merry way and organized toys and books the best ways I could. Fast forward two years, another baby and several curse words about toys everywhere later, and the transformation begins! In a perfect world, I would have painted the walls some fun color like red or yellow or green but since I've had little to no help doing this, it's still white (and still has several small holes in the walls). I have no pictures of the adult office, just pictures of before I really started making it a kid friendly space when most of the toys were just stored in here. I do know that I've moved out about four boxes of stuff my in-laws left and my husband's cigar box collection...you know, the one that won't ever be displayed anywhere but must be kept because it's important!
A lot of organizational tools but still chaos!

Great shelving but still chaos!


I took all the fabric bins I had (about 20 total!) and organized the toys into most of them. My original toy storage is the black cube with fabric bins. I've moved it to several different areas around our house. Imagine all thse toys spread throughout a living room, kitchen and dining room!


toys separated by category

small toys in cardboard containers

All the toys have their own space. I had to find a way to label all of these to where my one year old couldn't pull off the labels. Stickers and velcro wouldn't work. I found some white iron on patches that I cut in half and wrote on using Sharpies.
Labeled by category

Organized on shelf. The lower shelves are one year old friendly.

I couldn't use bins to corral the dominoes (a.k.a. bricks), Mr Potato Head, Army guys, spools and threads and little animals. I've been saving cardboard containers from formula and lemonade for a while (see last week's post). I decided to wrap scrapbook paper around them to contain each of these. 

little toys all contained and organized

I used labels to stick on each lid.
Now to contain other small toys and games. Little Legos, puzzles, Bristle Blocks, magnetic blocks, toddler puzzles and kids' artwork from school. I found these bins at Costco and Michael's. Each kid can take the bin they need and go play at the table.
Baby boy's puzzles. He drags this tub all over the house.
Magnetic blocks. Dog likes to chew on these when they are out.
Bristle blocks. Loud curse words when you step on one of these without shoes on!

Each puzzle is put in a ziploc bag with it's picture.

My oldest is a Lego fanatic but the small pieces get everywhere, especially in baby brother's mouth!
We still need this space for some office storage so the upper shelves are for paper supplies, bills, books, journals and other non-kid-friendly stuff. The bottom shelf is for bigger toys.
Now for the another wall of the room. The black cube still is in use. Each kid has a tub of their own toys that their siblings "shouldn't" play with. Also the bigger toys that didn't fit anywhere else live here. The five and three year olds got desks for Christmas. I found or made them some fun desk accessories. This wall is never this organized but I wanted the picture to look nice.
This little corner holds baskets of one year old friendly stuff. He can get them out or drag the baskets all over the house.
The artwork for the walls was left from the in-laws and added to by my husband who thought this room should be the adult-only area on this floor of the house. I've convinced him that this stuff needs to be in his MANCAVE. He has agreed. The African pig's head and the Impala goat head have been relocated to our living room. The paintings have been relocated to the dining room and the map is going to the donate pile.

The top of the dresser is the home for all of the internet, computer and phone connections. The drawers have extra office supplies, printer cartridges, paper and other stuff the kids can't have access to without adult supervision because the dresser is unstable. The printer is on a small table next to the dresser. The computer is on the table in the corner. None of this is organized or kid friendly as I would like it to be but I'm tired of nagging asking for help to get it done. Maybe if this (50 yr old) dresser falls on one of the children, it will get changed out!
Here's the updated artwork for two of the walls. The posters are covering the holes left by the previous wall dwellers. I bought the alphabet art canvas at Hobby Lobby last week for $30. It was mismarked...bummer for them, yay for me!
Posters I got from a book set. Alphabet, colors and numbers.
Broncos Super Bowl pennant and art canvas

Five Senses bulletin board art hanging on the wood bracket that held the map

Shapes and colors bulletin board art on one of the French doors.
Now this room is somewhere all six (hubs, myself, 3 kids and the dog) hang out in almost every evening. Our five year old son plays on the computer. Our three year old daughter draws pictures or plays with Legos. Our one year old son wrecks havoc where ever possible. I play with the littles and relax with the dog. I know this room will be used to it's fullest potential as our kids get older and are able to maintain the chaos.